At Meetings.bio, we have helped a variety of life science companies find the right pharmaceutical partners to grow their business. Over the years, we have refined our methodology for generating sales leads so that our partners no longer have to rely on blind, shotgun approaches to find their customers.
If you are trying to build a viable sales funnel for your CRO, you have probably discovered that it involves a great deal of nuance. Below we have highlighted some important lessons that should help you fill the top of your funnel with more high-quality opportunities.
Timing is key
Timing is crucial for any successful sales effort, but even more so for CROs. Biopharma companies typically have narrow timeframes in which they are open to start working with new CROs. Roughly 65% of biopharma executives report they'd terminate their partnership with a CRO over a lack of quality, or a significant failure to meet contractual obligations. However, in reality, once collaborations are established, the cost of switching is relatively high. This means it's absolutely crucial to actively probe the market not only to try and find companies that have an immediate need, but also those who will be ready to partner in the next 3-12 months. Many of the prospects we match with our CRO customers are in different early stages that they would never find using inbound marketing approaches alone. Below are a few examples of actual responses we got from our lead generation campaigns for our CRO customers: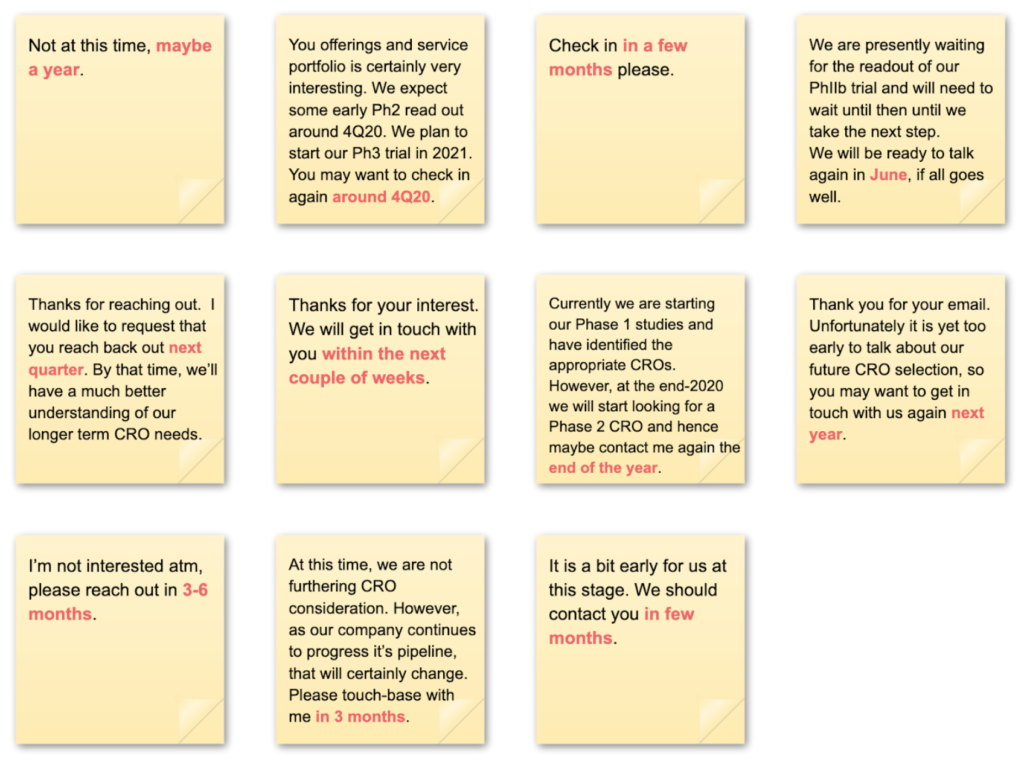 We believe these are invaluable pieces of information, which need to be diligently recorded and acted upon when the time is right. This is how you build the very top of your sales funnel.
Finding the right partner at the right time requires constant monitoring of your prospects. Drug pipelines are a fantastic indication of where things stand within your target organizations. If their drugs are in active clinical trials, you should regularly follow their progress on ClinicalTrials.gov. Press releases are also a great way to hone in on a rough timeline for the perfect pitch. Conferences, webinars and academic events can also give you an insight into your buyer's objectives, pain points and needs.
Segment the market in detail
Number of Employees and Geographic Location are the most commonly used attributes to segment the biopharma market. However, in our experience it is essential to segment the market in more detail to generate high quality leads. Some of the attributes we use in our campaigns for our customers include:
Stage of Development:

If your business is preclinical, it is important you understand and consider the nature of your prospect's R&D efforts in your messaging. On the clinical side, clients could require everything from scaling up manufacturing to trial monitoring and data analysis. If you're a clinical development CRO, it wouldn't make sense to reach out to preclinical stage companies too early.

Disease Area / Indication: Complex, idiopathic diseases such as cancer or Alzhiemer's disease have confounded researchers for decades. It is essential to consider your own operational and technical expertise as it relates to your prospect's pipeline for the highest chance of success. For vast fields of study such as oncology, it may be prudent to narrow your search even further by indication.

Drug Class:

Cell therapies may require an entirely different analytical skill set than small molecules, or biologic drugs. For example, in vitro potency assays for small molecules and biologics are commonplace. Cell and gene therapies, however, are much more challenging to characterize due to their complex manufacturing process and mechanism of action.

Funding:

For biotechs, considering funding information in your campaign can make a huge difference to your success rate, especially if you combine information about the amount (last) raised with the date of the last financing round. For companies that haven't raised financing recently, you can use the date of their last raise as an indicator of when they might raise their next round. This way, you can catch some companies that are in the middle or towards the end of their fundraising process, which means budgets are (or might soon be) refilled even though the financing event hasn't been announced yet.
For example, your target segment could be an intersection of three different segments, as illustrated below.
In our experience, following the guidelines above will make CRO prospecting campaigns significantly more cost-effective and successful, even though the preparations take a non-trivial amount of work.

---
If you'd like to share your thoughts or learn more about us, feel free to reach us at info@meetings.bio.